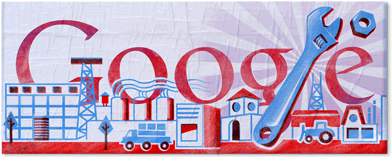 This is one of the worst good doodles I've seen :) May be it's supposed to be cheerful, I don't know. The style looks interesting because it's oldschool, but also it looks sad and industrial, which doesn't make my day brighter. Personal opinion. Do you like it ?
You can check the previous google doodle logos here :  google.com/logos
PS: By the way – do you think we should celebrate on April 27 ?
In wikipedia it says "World Graphics Day is celebrated on April 27″.
Any proposals for better Design Day date ?