Heroin is a very dangerous and addictive drug. But there was a time when it was prescribed for cough. The manufacturer was Bayer ( the company that invented the Aspirin )  and they were selling it between 1897-1904 in Germany. Later it was banned, of course. A curious fact is that Heroin was sold over the counter until the mid-1920s in the U.K. I've tried to make a research for that 20+ years period in order to find any labels or other artefacts that show how the logo looked like. These are the best samples I've found in the internet: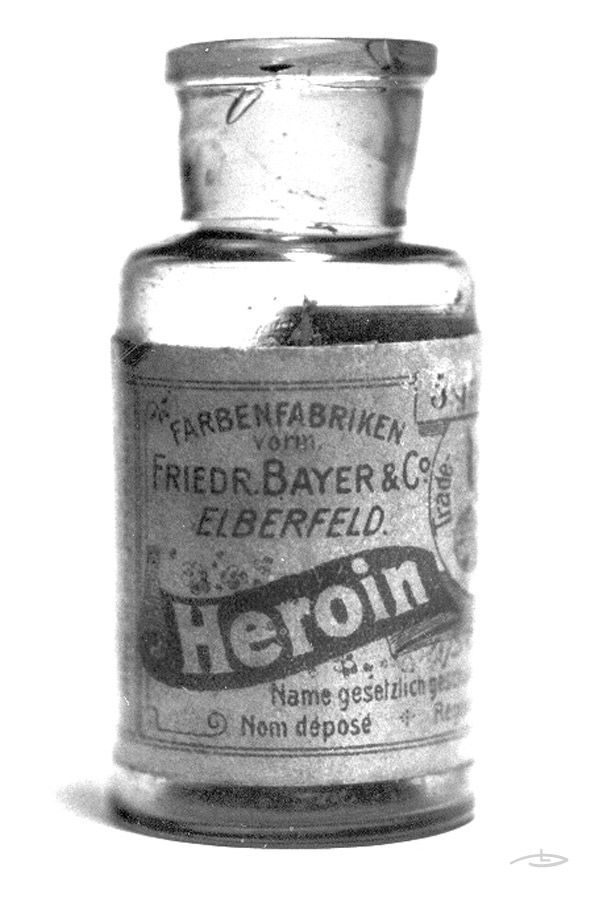 1 – Pre-war Heroin bottle, originally containing 5 grams of Heroin substance. This appears to be the most popular heroin label. We have definitely a Heroin logotype here. It reminds me a little bit about the Heineken logotype.. Source.
2 – This is my favorite one. I just adore the label design and the logotype with this cool "h". I wonder why they've put the dot's. Heroin (dot), hydrochlor (dot). All evidences point that this was a secondary "late" label. So is the logotype. Even though it's not written in english – I think this one was for the UK market. Source.
3 – Obviously a USA version of the label and of the logo. Again "hydrochlor" is added, but with the original HEROIN type. They've changed the "r" and made it more turned up and sharp. Source.
I know it doesn't count for a logotype. It's just a rare label I wanted to share :)
Another font Bayer used for their medicine names in USA.